Music is another universal language that we can all enjoy. Here I would like to share some free samples of music that I play for bodywork sessions.
These are wonderful for general relaxation, but can also be useful for meditation, self-reiki treatments and quieting the mind right before sleep. I am providing both a video version of the music, as well as a link to buy the music if you are interested.
Please note that I do not have any financial incentives in listing this information or receive any monetary compensation-- my interest is only in providing another channel of support and assistance with reducing stress to my readers and clients.
Namaste
Gina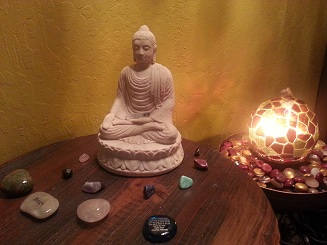 Deuter: Illumination (from the album, "Buddha Nature") Buy MP3 Album
Lewellyn: Music for Reiki Healing (full album) Buy MP3 Album
Deuter: Wind in Bamboo (from the album, "Spiritual Healing") Buy MP3 Album
Hilary Stagg: Sweet Return (from the album, "Sweet Return") Buy MP3 Album
Anzan: Peaceful Passage (from the album, "Zen and the Art of Relaxation" Buy MP3 Album
Liquid Mind: Relax (Album samples) Buy MP3 Album
Aeoliah: Angel Love (from the album, "Angel Love") Buy MP3 Album
Paul Baker: Tranquil Harp (Album) Buy MP3 Album
Erica Goodman: Heavenly Harp (Album) Buy MP3 Album
Steven Halpern: Deep Theta 2.0 (Album) Buy Album